Stock Filters Ship Free within 48 Hours!
Rangaire 610046 & 610050 Lense Type Filter
Combination Aluminum Mesh Grease and Carbon Odor Filter
11-3/8 x 11-3/4 x 3/8 THICK.
FIVE LAYERS OF ALUMINUM FILTER MATERIAL FOR GREASE REMOVAL PLUS CARBON FIBER FOR REMOVING ODORS OF COOKING. A HANDY PULL TAB IS PROVIDED FOR EASE OF INSTALLATION AND REMOVAL. THE ALUMINUM CARBON FILTER HAS A REMOVABLE CARBON PAD. SAVE SERIOUS BUCKS AND JUST REPLACE THE PAD RATHER THAN THROW AWAY THE FILTER. SEE PAD KIT BELOW ON THIS PAGE.
THIS FILTER REPLACES THESE
Rangaire products:
THIS FILTER ALSO REPLACES:
BROAN FILTER BP57
NUTONE FILTER SL6200
RangAire Model H52030030110 Aluminum/Carbon Lens Range Hood Filter
Measures 11-1/2″ x 11-3/4″ x 3/8″, with 4″ Lens along Long Side, with Pull Tab – $14.97 Each
Available Now! Call 619-628-1917 to order!
RANGAIRE HOOD MODELS H725, H728 AND H741
EACH HOOD USES TWO FILTERS. NOTE THE HEAVY DUTY TENSION SPRINGS THAT HOLD THE FILTER FIRMLY IN PLACE AND THE PULL TABS.
| | | | |
| --- | --- | --- | --- |
| RangeAire Hood Width | Filter Size | Price / Filter | Part Number |
| 30 INCH | 8-7/8 X 18-1/4 | $18.79 | 610053 |
| 36 INCH | 11-7/8 X 18-1/4 | $19.29 | 610054 |
| 42 INCH | 14-7/8 X 18-1/4 | $23.56 | 610055 |
RangeAire 30″ Hood Grease Filter 610053 Measures 8-7/8 x 18-1/4 x 3/8
Specifications
Polysorb carbon pads 11 x 17 x 1/4 inch thick. Polysorb carbon pads remove cooking odors and absorb grease. Use as is with filter 610054 above. Cut to size for filter 610053. Each kit comes with four stainless steel clips to hold the pad onto the filter.
CHECK OUT THESE PRICES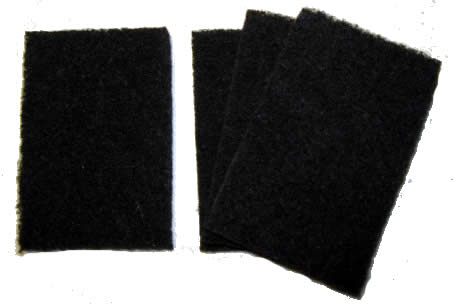 Rangaire and Kitchenaire L Shaped Filter
Specifications
11 X 11 5/8 X 3/32 THICK. THE BEND WILL CAUSE ONE SIDE TO BE 5 INCHES X 11 INCHES. FIVE LAYERS OF ALUMINUM FILTER MATERIAL.
USED ON MANY OLD RANGAIRE HOODS. USED IN PAIRS OF TWO.
THIS FILTER REPLACES THESE RANGAIRE PARTS.
For aluminum carbon filters that replace 610042 and 610081 order below
Part Number
Aluminum Mesh: RHF1119
Aluminum & Carbon: RHF0420AC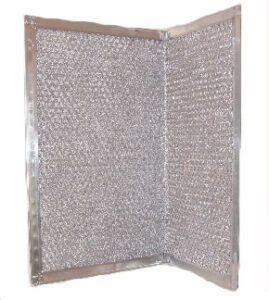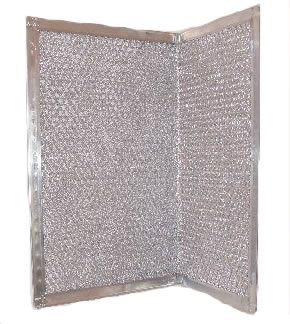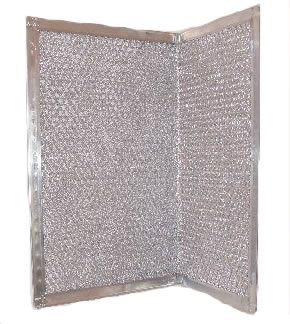 Polysorb carbon pads
Specifications
Polysorb carbon pads 7-3/4 x 10-3/8 x 1/4 inch thick. Polysorb carbon pads remove cooking odors and absorb grease. Customers who order the L shaped filters shown above use these pads to absorb and remove cooking grease. They also are used with the Rangaire 610050 filters.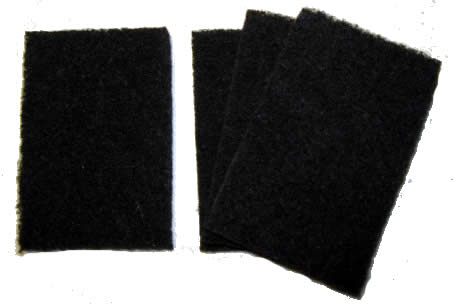 RANGAIRE Hood Filter & Lens
Specifications
This filter and lens is used on the following RANGAIRE range hoods:
H525,H527,H529,H654,H823,
H825,H827,H833,H835,H837
THE FILTER is a sturdy aluminum filter that measures 8-5/8 x 11 x 3/8 thick. Note the handy pull tab on the filter.
THE LIGHT LENS is constructed of a heat resistant material that is opaque in color which takes away unwanted glare. The bumpy surface reflects light in all directions so you have a well lit surface without the nasty glare. The lens measures 3-1/2 inches x 11 inches.
The original lens was a molded plastic piece that snapped into place. The lens that we offer below is a flat piece. It will slide into the same channels the filter uses.
LOW, LOW PRICES
Part Number
610035 FILTER
610035AC FILTER
RHF3511 LIGHT LENS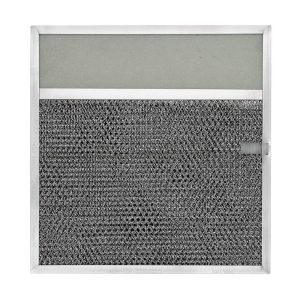 LENS FILTER FOR THAT GREAT CLASSIC RANGAIRE HOOD!
Specifications
THIS FILTER HAS A 3/8 INCH THICK FRAME AND THE SAME RUGGED FILTER MATERIAL YOU WILL FIND IN COMMERCIAL AIR CONDITIONERS.
THE SIZE IS 7-5/8 X 14-1/8. THE LIGHT LENS IS A PART OF THE FILTER. THERE IS ONE MOUNTING HOLES ON EACH END.
THE ALUMINUM FILTER IS WASHABLE AND BUILT FOR LONG LIFE.
Part Number
RHF9245 RHF9245AC
MODELS:
210, 220, PM22-140, PM25-140, 90026WH AND PM25-100
RANGAIRE PART NUMBERS:
610027, 610049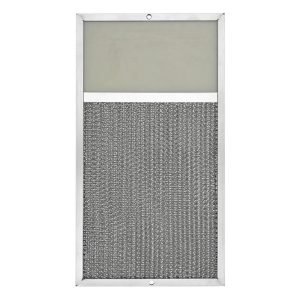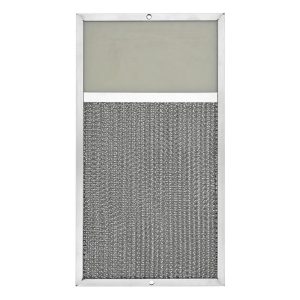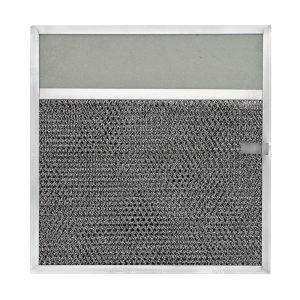 FILTERS WITHOUT PICTURES
ALUMINUM FILTER 6-5/8 X 15-3/4 X 3/8 THICK.
MOUNTING HOLES ON FRAME CENTERED ON SHORT SIDES.
USED ON MODELS UC2-8, UC656, 110, 720 AND POSSIBLY OTHERS.
ALUMINUM FILTER RHF4725
call us
ALUMINUM FILTER 12-3/8 x 12-3/8 x 3/8 THICK
USED ON MODELS H933, H935, H937, H939, H949 AND H959
The Rangaire part number is 610019
ALUMINUM FILTER RHF1208
call us
CARBON FILTER 12-3/8 x 12-3/8 x 3/8 THICK
USED ON MODELS H933, H935, H937, H939, H949 AND H959
The Rangaire part number is 610043
CARBON FILTER RHF1208C
add to cart
ALUMINUM FILTER 9 X 19 X 3/8 THICK PULL TAB CENTERED ON SHORT SIDE
The Rangaire part number is 610036
Used on the following models:
292, 300, 620, 623, 630, 713, 717, 719, 747, 2-717, 2-747 and
HW27-770, HW36-221, H127-140, H136-221.
ALUMINUM FILTER RHF0918
call us
CARBON FILTER 8-15/16 X 18-15/16 X 3/8 THICK
The Rangaire part number is 612009
Used on the following models:
292, 300, 620, 623, 630, 713, 717, 719, 747, 2-717, 2-747 and
HW27-770, HW36-221, H127-140, H136-221.
CARBON FILTER RCR0810
call us
Aluminum filter 12 x 17 x 3/8.
Used on all microwave shelf hoods.
Models HS100, HS200. HS201, HS202 HS21-421 and HS21-431.
The Rangaire part number is 610037

Rangaire's original size of this filter was 12-1/4 x 17-1/8.
I got plenty phone calls saying the fit was too tight.
We dropped the size to 12 x 17 and that ended the problem.
ALUMINUM FILTER RHF1204
call us
Aluminum filter with light lens.
The size is 12-1/2 inches left to right and 18 inches front to back.
The light lens is in the front and is 6 inches deep.
The Rangaire part number is 610025.
Used on the following Rangaire models: 913, 915, 917, 923, 925 and 927.
Alum. / Lens Filter AL9019
call us