Replacement Filters for Kitchenaire Range Hood Models HC200, HC300, AND HC600
Wing Shaped Filter For Kitchenaire Hoods
Specifications
15 3/4 LEFT TO RIGHT, 10 INCHES FRONT TO BACK WITH 3 1/4 INCHES HIGH WINGS, ONE IN THE FRONT AND ONE IN THE BACK. TWO MOUNTING HOLES, ONE ON THE LEFT AND ONE ON THE RIGHT.
THE FILTER SHOWN IS USED ON THE FOLLOWING KITCHENAIRE RANGE HOODS. KA130 – KA170 – KA190 – KA240 – LF16 – LFCU12 – LFCU13 – LFCU17 – LFCU19
THE FOLLOWING KITCHENAIRE HOOD MODELS HAVE THEIR OWN FILTERS. KA135 – HC200 – HC300 – LFCU3 – LFCU14
WE HAVE THE MODEL AND PART INFORMATION AND OF COURSE STOCK THE FILTERS.
PROBABLY THE BEST RANGE HOODS EVER BUILT.
WE USE 1/4 INCH THICK FILTER MEDIA, THE SAME KIND YOU SEE ON COMMERCIAL AIR CONDITIONERS. WELL BUILT FILTERS FOR A CLASSIC HOOD.
Part Number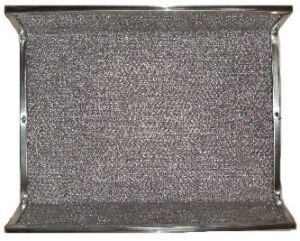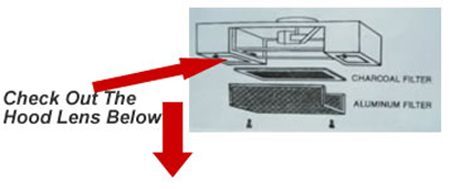 Thank you, I ordered the filters on Saturday and received them around noon on Monday. I have no idea how you got them here so quick. Customer service is fantastic and filters fit like a glove.
Best Regards,
Chuck
Thank you!
I ordered June 9 and got my new filter June 12. Five minutes after receiving my package, I, a housewife, installed it. This is such great service–if you have a Kitchenaire hood, I recommend buying from Range Hood Filters, Inc. See the before and after photos below to see what a difference replacing the filter makes visually, not to mention increased performance and safety.
Feel free to use the photos.
Thank you very much,
Heidi
Before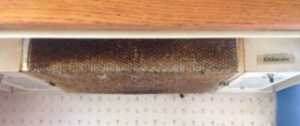 Carbon Filter Used With Wing Filter Shown Above
After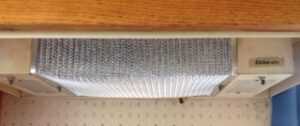 Specifications
REGULAR CARBON FILTER IN AN ALUMINUM FRAME.
9 X 15 X 3/8 THICK.
THESE CARBON FILTERS REMOVE COOKING ODORS AND ABSORB GREASE. THEY ARE NON WASHABLE, HOWEVER. WITH THE TERRIFIC PRICE WE OFFER, YOU MAY WANT TO STOCK UP!

Part Number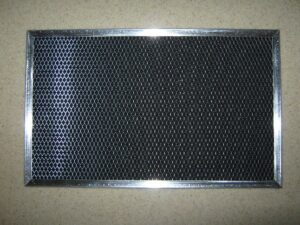 A GREAT SAVINGS ON A GREAT FILTER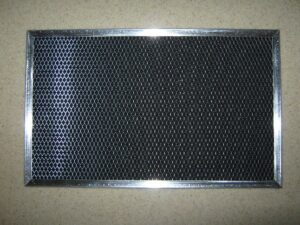 Kitchenaire Range Hood Lens Material
BULK KITCHENAIRE RANGE HOOD LENS MATERIAL
Specifications
The exact lens material you see in the above picture. You can save serious money by making your own lenses. If you are handy with a scissor and drill, this is for you. It cuts with a scissor and will drill easily as well.
The size is 6-5/8 x 11-3/4 inches.
The price will make your eyes light up!
RANGE HOOD FILTERS, INC. EXCLUSIVE
THIS LENS IS USED ON THE FOLLOWING RANGAIRE RANGE HOODS
H933 – H935 – H937 – H939 – H949 – H959
AND MANY OTHER HOODS AS WELL.
HC600 KITCHENAIRE FILTER
Specifications
Springs hold the filter firmly in place. Pull tabs make installation easy. The filters are constructed of heavy duty aluminum material- the same as you see on commercial air conditioners.
13-3/4 x 17 x 3/8
Two springs on long side.
Pull tabs on side opposite the springs.
Part Number
Buy KA612 Now!
DOUBLE LENS FILTERS FOR KITCHENAIRE HOODS
Specifications
KitchenAire Hood Filters for the following KitchenAide Models: HC130 HC200 HC240 HC300 KA155
Part Numbers
RHF5023 – 8-1/4 x 23-1/2 x 3/8 Aluminum Mesh Lens Filter, 3-1/2″ Lenses on either side
Option 1: ALUMINUM MESH DOUBLE LENS FILTER RHF5023 ORDER RHF5023 NOW
Option 2: COMBINATION ALUMINUM AND CARBON DOUBLE LENS FILTER RLPS0225 ORDER RLPS0225 NOW